Entire 121 Hidden Online Jobs Guide
FREE Lifetime Updates
FREE Lifetime Support
Instant Access 24 Hours a Day
PLUS:

Special Bonus Guides (retail $39)
The Complete Guide to Telecommuting
Our flagship work at home guide:
45 pages of pure telecommuting goodness.
Learn HOW to land a legitimate, well paying work from home job, tailor resumes to telecommuting, and how to communicate with potential employers.
The Complete Guide to Telecommuting will be the only "go-to" book you need as you make the transition from out of office to home office.
Tax Tips for Telecommuters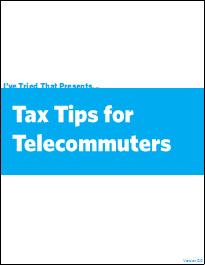 The 12-page report will help you understand:
Basic tax deduction that will save you money.
Why your tax is higher and what you can legally do about it.
How your self-employed income works with the rest of your return.
How to Spot the Online Scammer
This report will:
Teach you how to quickly spot which online job postings are scams.
Give you real life examples of scams that are being used TODAY.
Save you thousands of dollars and/or your identity from falling into a scammer's hands.